Shade Tree Vintage Auto on YouTube
Joined

Nov 27, 2007
Messages

2,415
Reaction score

86
Location
Contact seller
Hi everyone. I decided to try and help whoever wants it with a few suggestions about writing for sale ads. I have noticed a few ads that where advertising some pretty cool cars, but the way the ad was written was an immediate turn off. When you read an ad about a car (or anything really) and half the words are misspelled or the ad is very sporadic and hard to follow, generally you don't keep reading. So when writing an ad for your vehicle, you need to keep that in mind. It's not hard to proof read your ad and make sure it flows well and I guarantee that it is well worth it in the end.
When writing, be sure to kind of put things in categories. If you are talking about the dash and then throw in it has an edelbrock intake and a grant steering wheel, the intake isn't noticed as vividly because the people are thinking about the interior. Example;
The car has factory rally gauges with tach, bucket seats with console, holley carb, factory tuff wheel, Sony CD player….
The carb just doesn't belong there. Be sure to keep related items together and non related items where they belong. Also, be sure to use punctuation. If there is no punctuation, even though the words are there, it gets hard to follow. Example;
The 340 runs great the four speed shifts amazing and the 391 sure grip feels tight I added traction bars and subframe connectors and stiffened the car up a ton
That just isn't easy on the eyes. You want your ad to flow on be easy to read. Don't use huge words, but don't use just basic words either. You want to come off as educated in life as well as about the vehicle you are selling.
As for the length of the ad, you want it to be descriptive and get information to people, but not be too long. On the other hand, too short is worse than too long. I say try to keep it no less than 350 words but no more than 550. Be sure to add a story to the car too. People love to hear stories.
ALWAYS ALWAYS ALWAYS be sure to put your contact info. I find it amazing that people don't ad contact info. I know on a lot of the forums they don't allow you too. But you can be contacted threw the forum. No matter what, post your price and your location. The internet is worldwide, not just your back yard. So that little five digit zip code is important.
Pictures are worth 1000 words. Be sure to always post good pictures. I know that sometimes in this hobby, you have several cars right next to each other. It is well worth it to spend the time pulling the cars out, spraying them off and cleaning out the garbage. Anytime possible, be sure to have aired up tires on the car even if just for the pictures (if the wheels and tires won't be sold with the car, be sure to in bold font state that they are not included). Be sure to get as good of pictures as possible. Get as many as possible too. Upload them all to either Photobucket.com, Cardomain.com, or where ever else you want. I like to post four to 10 with the ad and then the link to the rest underneath. One reason I like to do that is that cardomain has a counter up at the top and you can get an idea of how many people are checking out your ride. I post most my ads in multiple places, so it kind of generalizes the views.
Just so you all can get an idea of how I write ads, I have made a mock ad for my Coronet. My car IS NOT for sale, but I figured it would be a good example.
Again, this is only to help people to get ideas of how to better write their ads. I have no intent of offending anyone and this is my point of view on writing. I hope this helps guys. Happy selling.
Jeremy
I have up for sale one of the funnest, coolest cars you will ever own. This is a very rare 1972 Dodge Coronet station wagon in 90% original paint. This car is a classic and gets views, comments, thumbs up, etc… everywhere it goes. To make sure it gets everyone's attention, I added new polished torque thrusts with black wall out tires and I tinted the windows. All the rear glass is 15% and the front two windows are 35%. It's so nice on the inside and just POPS on the outside.
The paint is thin and has nicks, scratches, and chips throughout. But really shines up well. There are some minor dents and dings in several places on the body, but nothing life threatening. As for rust, well the driver floor pan is pretty sad and the spare tire area is a bit soft in the very bottom. There are also a few minor little places near the rear wheels, but nothing to out of control or structural.
This wagon is the six passenger model and therefore only has the two bench seats and a ton of room for cargo or ….?. The interior is in fair driver condition, but the seats could use reupholstered. The front seat was done at one time, but looks a bit funky. The dash does have some cracks, but it is great for a driver and gives it a cool look. My biggest issue with the interior is the headliner is collapsing and I haven't figured out what to do. I have added a factory Tuff wheel and adapter and it does give it a little more character (as if this car needed anything else).
This Coronet is powered by the original 318 2bbl and 904 trans. It has an 8 ¾ with 11" drums out back and disks up front. This car was also optioned with a front sway bar. I have lowered the front a little and put Monroe air shocks on the rear to give it an aggressive stance. With less than 112K orig miles on this awesome ride, most everything mechanical is still in very good working condition.
I bought this car from the 81 year old original owner out of Seattle, WA and have been keeping in contact with the family. They have shared some interesting stories about the car such as it spent 1973-1975 in the Philippines. I have put just about 3000 miles on her since the end of July and haven't had any problems. It is an old car, so it has its little noises and shakes. But overall is in great running/driving condition. I can honestly say I would trust it to drive anywhere.
I also have some extra parts included with the car. Mostly trim parts and interior parts.
Asking $4,000 obo.
Please contact Jeremy at (555)555-5555 or Email at
iwantyourcar@mycar.com
Car is located in Logan, UT 84321
I can assist with load up and or meeting with delivery driver.
Thanks for looking.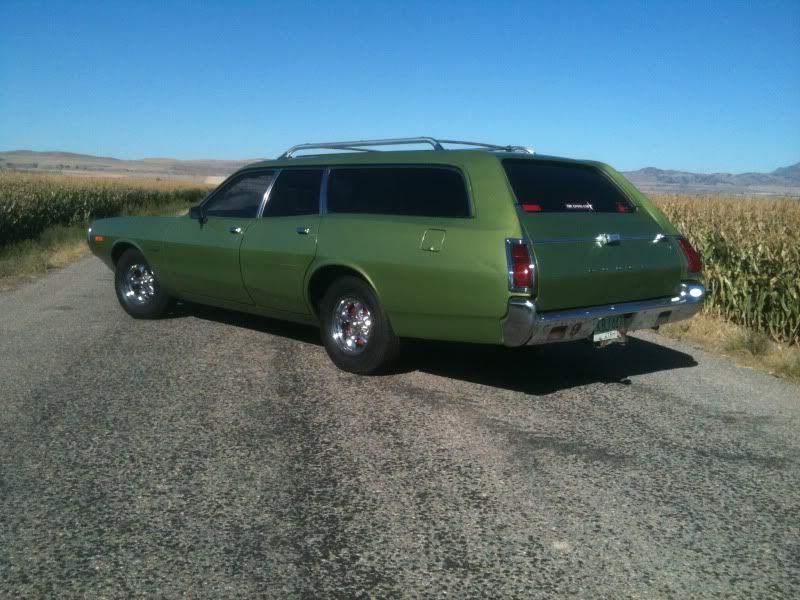 For more pics, please click the link.
http://www.cardomain.com/ride/3874782